The Next topic will be
Do you agree or disagree with the following statement? Only people who earn a lot of money are successful.
1) Before next class, use the
'Graphic Organizer'
to make a mind-map.
2) Many students have noticed that Criterion tells them there is no 'introductory material'. This time, let's try to make an 'introduction' before the topic sentence.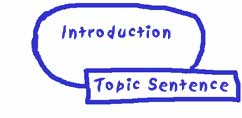 An introduction is at the beginning.
It gives the reader an idea of what the essay is about.
It leads into the thesis (topic sentence).

How do I write an introduction?
Introductions can be written in many different ways. Here are some ideas you can use to write a good introduction:
* General background(自分の意見を支える一般常識)
* Narrative(エピソード)
* Quotation (引用)
* Dramatic statistics/facts(驚きの数字、事実)
* Shocking statement(ショッキングな意見)
* Questions that lead to the thesis(自分の意見へ繋がるような読者への問いかけ)
General background:
Since the beginning of time, there have been teachers. The "classroom" teacher has many important tasks to do. Not only does a teacher have to teach information, but the teacher has to keep things interesting. She also has to sometimes be a referee, a coach, and a secretary. Not only that, but sometimes a teacher has to be a nurse or just a good listener.
This career demands a lot, but it is the career I most want to have.
Narrative:
My fourth grade teacher, Miss Ryan, was not a big woman. She was about five feet tall and had gray hair. Even though she did not look very strong, she never had trouble controlling all her students. She could quiet us down with just a stare. We always wanted to make her happy because we knew how much Miss Ryan cared about us. She expected us to do the best we could, and we all tried our best.
Miss Ryan was the kind of teacher who made me know that I wanted to be a teacher.
Quotation:
"Teaching is better than tossing a pebble into a pond of water and watching those ripples move out from the middle. With teaching, you never know where those ripples will end." I remember those words of my fourth grade teacher. Miss Ryan once told me that years after they left her class, her students would come back to tell how much she helped them. Miss Ryan's students said that it was because of her that they learned to work hard and to feel proud of what they did.
I would like to teach because I would like to make that kind of difference.
Dramatic statistics/facts:
Three out of four people we talked to in town said that it didn't matter how many kids were taught in one class. However, our class researched this and found the opposite is true. Studies done at the university show that having small class sizes makes a big difference in how much students learn.
Before our town votes about the school budget next week, we need to think more carefully about how important smaller class size is.
Shocking statement:
Music and art are a waste of time and shouldn't be taught in our schools. Anyone can learn about these subjects on his own if he wants to. Although not many people would openly say this, this is the message we get when we read the letters to the editor. The letters they write to the newspaper are against setting aside money for music and art classes.
However, most people believe music and art are important subjects. Therefore, we need to write to our school board and tell them that the school budget must include these classes.
Questions that lead to the thesis:
It might be fun to use computers to learn some things, but what if that was the only way we were taught? After a while, who would answer the questions we have? What if no one wanted to work with students in the classroom?
Teaching is such an important job that I plan to make teaching my career.