The 2006 Israel-Lebanon conflict.
The 2006 Israel-Lebanon conflict started on 12 July 2006. The conflict began with a cross-border Hezbollah raid and shelling, which resulted in the capture of two and killing of three Israeli soldiers. Israel held the Lebanese government responsible for the attack because it was carried out from Lebanese territory. Israel initiated an air and naval blockade, air strikes across much of the country, and ground incursions into southern Lebanon. Hezbollah then continuously launched rocket attacks into northern Israel and engaged the Israeli Army on the ground with hit-and-run guerrilla attacks. The conflict killed over 1000 Lebanese, mainly civilians, and over 150 Israelis, mainly soldiers, and caused widespread damage to Lebanon's infrastructure. It also displaced about a million Lebanese and 500,000 Israelis and disrupted normal life across all of Lebanon and northern Israel.
On 11 August, the United Nations Security Council unanimously approved United Nations Security Council Resolution 1701 to end the conflict. A ceasefire came into effect at 05:00 UTC, 14 August 2006. Although violations of the ceasefire have occurred from both sides, fighting has largely ceased.
On 17 August, the Lebanese army began deploying its forces in southern Lebanon as part of the agreement, and Israel began to withdraw some of its forces from the country. A full withdrawal is not expected until the enlarged UNIFIL force has arrived.
(Note* This was written in 2006. After the ceasefire, Hezbollah became more popular because they helped the people of Lebanon more than the government did. It could be said that Israel's attacks had a reverse effect. They wanted to make Hezbollah unpopular. Israel was also criticized worldwide for using too much power and killing civilians. In particular, their use of cluster bombs was considered inhumane.)
Top Hamas official seized by Israel
(From Wikinews)
(Originally, the Palestinians lived in the area that is now Israel. The West Bank territory is one of the two areas the Palestinians moved to after Israel became a country. Israel now occupies the West Bank. Since January 2006, eHamasf has been the majority Palestinian political party in the West Bank. Hamas believes Israel should be given back to the Palestinians and the new ePalestinef should become an Islamic state.)
-August 19, 2006-
On Saturday, in a pre-dawn raid, Israeli soldiers seized Nasser al-Shaer at his home in Ramallah in the occupied West Bank. Al-Shaer is the Palestinian Deputy Prime Minister and a top official of the Hamas militant group.
The Israeli military confirmed the detention of al-Shaer. Israel has been cracking down on the Hamas movement, which does not recognize Israel, for the last seven weeks. Al-Shaer is the highest ranking Hamas member to be detained. 30 members of Palestinian National Authority parliament have also been detained during the crack-down.
Nasser al-Shaer, a former university professor, is known as a pragmatist in Hamas. Palestinian officials accused Israel of undermining their efforts to form a broad government coalition.
The West Bank was captured by Israel from Jordan in the 1967 Six-Day War and is considered by the United Nations and most countries to be under Israeli occupation. Some Israelis and various other groups prefer to refer to it as "disputed" rather than "occupied" territory.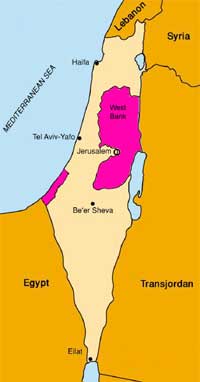 to see an interesting slideshow made by a person from Israel. What does it mean?
(Note* Both Hamas and Hezbollah are considered dangerous by the world because they don't consider Israel to be a real country. However, both groups are popular among the people in their countries. Hamas was elected to be the government of the occupied territories. However, both Israel and the U.S. refused to consider them the real government.)